| | |
| --- | --- |
| | "The object of all work is production or accomplishment and to either of these ends there must be forethought, system, planning, intelligence, and honest purpose, as well as perspiration." |
| | |
| | |
| | "The secret of greatness is simple: do better work than any other man in your field - and keep on doing it. " |
| | |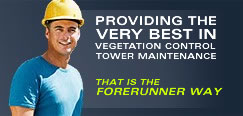 COMPANY PROFILE
Forerunner has set its sights on becoming the best vegetation management company in the tower industry. Where others seem to apply half hearted efforts into maintaining vegetation at tower sites, Forerunner is consistently delivering the very best results concerning vegetation across the nation. Our results are almost identical on every site due to the Quality Control Standards that we have in place.

To accomplish this, it takes personnel in the field that have integrity, honesty, aptitude and the desire to work hard! Forerunners field personnel are hand picked with those values in mind. Our clients are pleasingly surprised when they see that all our crews produce the same quality of work across the nation, leaving their sites in the best shape possible.

Our management team is always working to stay current with the latest in technology …but their most important responsibility is to manage the men in the field to ensure the best results for our clients. Many companies focus on their 'corporate image' and neglect to focus on the service being performed, but at Forerunner our approach is that our work in the field determines our image in the minds of our corporate clients.
Our goal is to perform our services in the most efficient & practical manner, from the field… to our clients' computer. We provide excellent services for a fair market value. We are not the 'cheapest bid'…but the excellence that we provide in our service makes up for the difference!